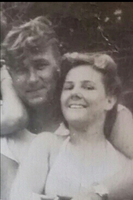 Genevieve Pugh
Genevieve Pugh
June 2, 2017
Genevieve Pugh, formally of Luzerne passed away on Friday at Manor Care, Kingston, with her family next to her.
Born in Kingston, she was the daughter of the late Andrew and Josephine Schmidt Krasniak. For many years she worked at General Cigar, Kingston, she retired from Offset Paper Back, Dallas.
She was preceded in death by her husband Henry Pugh, January 16, 2016 and infant daughter Mary Ellen.
She is survived by son, Henry Pugh, Jr., North Carolina; daughters, Linda Cook, Dallas; Dorothy Pencavage of Sweet Valley and Donna Coolbaugh, Luzerne; grandchildren Kevin Will, Lynda Cook, Jennifer Cook, John Pencavage, Daniel Pencavage, Nichole Nighbert, Karen Herrscher, Mark Allen Jr.; great grandchildren, Nathan, Damien, and Gage Will; Malynda and Derick Cook; Aubrey Nighbert and Nico Hogan; Tessa and Maggie Pencavage, Thomas and Travis Chrispell.
Funeral service will be held on Monday at 11:00 am at the Betz-Jastremski Funeral Home, Inc. 568 Bennett St. Luzerne, with Rev. Cheryl Cavalari officiating. Interment will be in Chapel Lawn Memorial Park, Dallas, Family and friends may call on Monday from 9 – 11 am. To leave a message of condolence for her family please visit www.betzjastremski.com.